The COVID-19 pandemic has caused us to shift how we normally "do" church. Read below to see adjustments we've made, things you can do, and ways we can support you during this new normal.
Subscribe to the Weekly Round Up
This page offers general information. To get real-time weekly updates in your email in-box, we encourage you to subscribe to the Weekly Round Up, our online bulletin.
We Are Open
In-Person Services at 9:00 & 10:45 am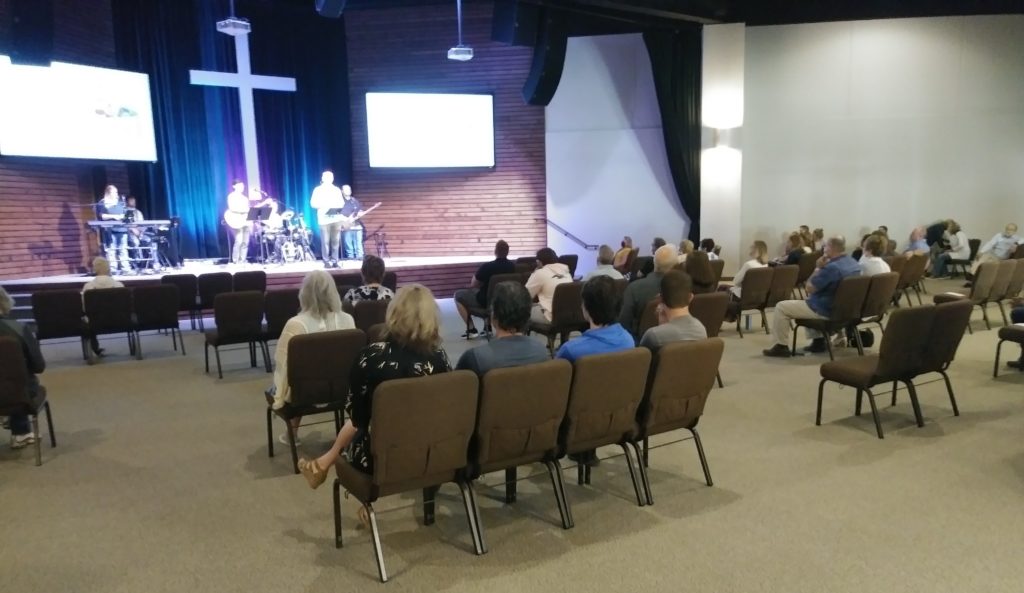 What To Expect When You Visit
Seating: We have seating groups spaced 6 feet apart for families that live in the same household. If we don't have a group for your family's size, an usher will be happy to help round up more chairs.

Masks: The state of Minnesota mandates masks be worn in all indoor public spaces. Exemptions include those with an underlying condition that makes mask wearing impractical and children 5 years old and younger.

Socializing: We encourage you to maintain a safe (6 ft.) distance from others while socializing after each service or wear a mask if you will be closer than 6 feet apart.
What Else Do You Need To Know: As much as we all miss one another, please refrain from hugs and handshakes. And we ask that if you feel unwell please don't attend in person.
What About Kids? We offer Nursery (age 0-36 months), a preschool class, and a Kindergarten/1st Grade class at our 9:00 am service. We also offer BRICK Bible Foundations class for 6th & 7th graders at our 10:45 am service in the Youth Room. We hope to offer more Sunday morning learning opportunities for other age groups and at other service times in the future, so keep checking back.
For parents keeping children in the service, we want to reassure you that we welcome kids in our services! We expect them to wiggle and make noise at inopportune times and want you to know… it's okay. We truly believe it's important for them to be here and to understand that knowing God, worshiping and being with other believers is really important. We offer take-home Praise Packs to help keep kids busy during the service, and have tables set up in the back of the worship center for families with young kiddos.

COVID-19 Preparedness Plan: We have a detailed plan describing all we're doing to mitigate the spread of this virus in our building.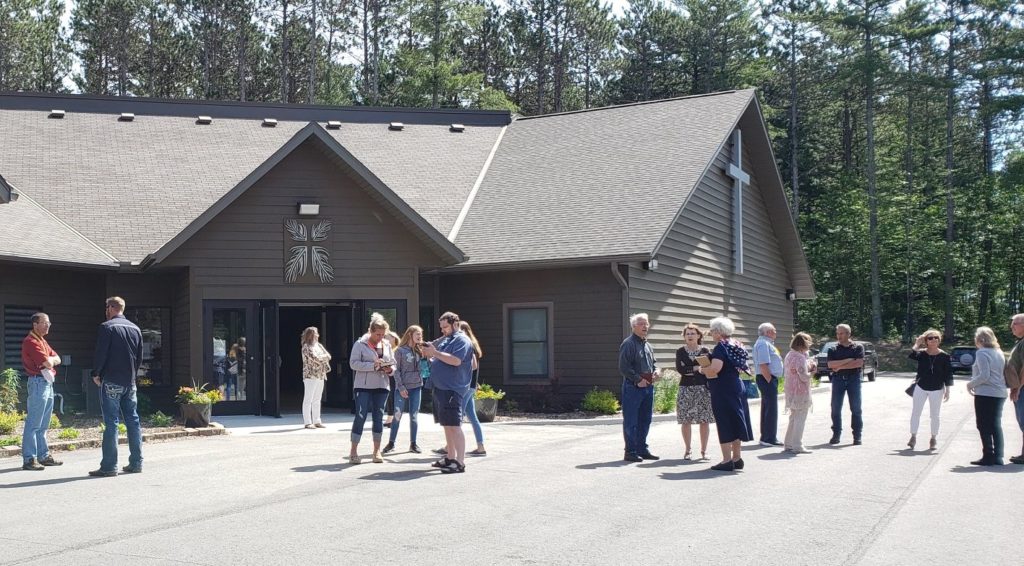 We Are Online, Too
Live streamed at 9:00 & 10:45 am every Sunday.
Live streamed at 9:00 & 10:45 am every Sunday.
A library of all our past sermons. New sermons uploaded each Monday.
If you're new to GREFC, we want to get to know you, even if we won't get to meet in person for a while. Please fill out the Connect Card and someone will connect with you shortly.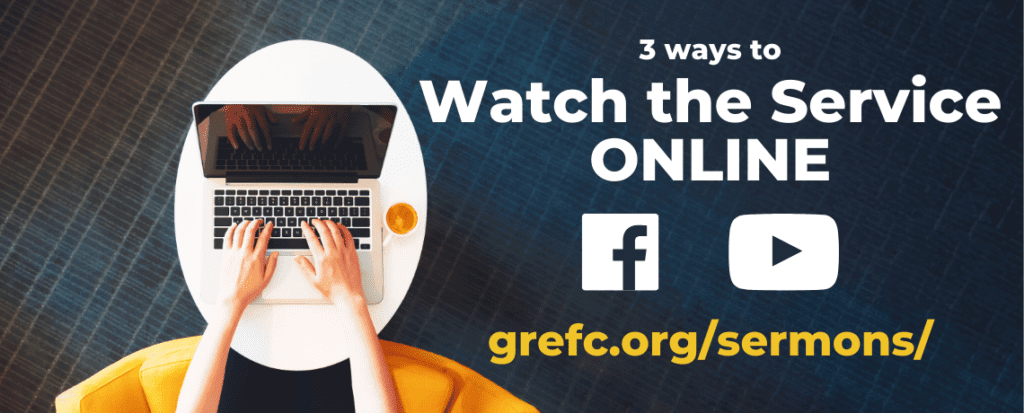 Community During COVID-19
Groups
We encourage community groups, micro groups, small groups and mentor/mentee groups to continue meeting as long as you can follow all the state and CDC guidelines. If you'd like to be in a group, please let us know and we will help you get connected!
We have micro groups for elementary kids during the week! If you would like your kids to be in a micro group, you can sign them up here. If you are interested in leading an elementary micro group, you can sign up to lead here.

Ministries
Our ministries are still active! We offer many opportunities to connect, both in person and online, helping you to grow in loving God and one another. Visit our Events Calendar to find something for you or your family.

What You Can Do
PRAY
This is the most important thing we can do!
Pray for those in our community directly affected by COVID-19.
Pray for those struggling during this time: those with depression, those who are prone to anxiety, families with young children, those who are isolated.
Pray for those who have had a loss of income.
Pray for those making tough decisions: political leaders, public health administrators, school administrators, and church leaders.
Pray for those on the front lines: healthcare workers, first responders, essential employees.
Take prayer walks around your neighborhood, praying for those within the houses that you pass.
Prayer Requests
If you need prayer, or know of someone who does, we encourage you to fill out a Prayer Request Card. You can ask for prayer from our pastors and elders or from our prayer chain.
Online Prayer Room
Join the pastors, elders and church staff online for an hour of prayer every fourth Monday of each month. Connect to the Online Prayer Room via Zoom. Password: 757141
ACT
Be a light in your community and represent Jesus well! We encourage you to please follow all state, local, and CDC guidelines.
Patronize local businesses and restaurants whenever possible – these are our neighbors' livelihoods at stake.
Grocery shop or run errands for an elderly neighbor or those at high risk.
Reach out to others who my struggle with depression or anxiety. Offer to pray with them, run errands, or just be a source of encouragement.
Need Care?
Are you in need of help, in any way? Do you know someone who is struggling financially, physically, emotionally or spiritually? We want to help. Fill out our Care & Support form.
GIVE
Be generous. Many have been negatively impacted financially by this crisis and it may be a while before they can rebound.
Pay a utility bill, give gift cards to gas stations, grocery stores and department stores. If you know people who are struggling to get by, and you are able, help meet their need.
Give through GREFC. The pastors and elders hear of needs that you may not be aware of. We have a Benevolent Fund specifically to help those in our community.

WAYS TO GIVE:

Online HERE (choose Benevolent Fund)
Text "BENEVOLENT" and the amount you want to give to 218-376-7072.
Through the offering during Sunday services.
SERVE
While many are physically attending our services, many are not, for various reasons. This fact puts a strain on our Sunday services which rely on volunteers, many of whom are not ready to be back in public circulation. If you are able, we could use help getting out the important message of hope in Jesus Christ on Sunday mornings while keeping everyone safe:
Cleaning/Disinfecting: We need 2-3 people each week immediately after the first service (around 10:00 am) to help us disinfect frequently touched services to prepare for those attending our second service. This takes approximately 15 minutes for two people.
Greeters/Ushers: We need at least one greeter and one usher for each service, to be a friendly source of help for those attending.
Kids Ministry: Loving and helping kids to know Jesus requires the highest number of volunteers each Sunday. If you can help in the Nursery or help teach or assist a teacher on Sunday mornings, we definitely have a spot for you!
In addition to Sunday mornings, there are many other opportunities to serve in ministry. If you are able to help on Sunday mornings or anytime, please let us know by filling out the online I Want To Serve card.