Community Group Re-Group
October 1 @ 7:00 pm

-

8:00 pm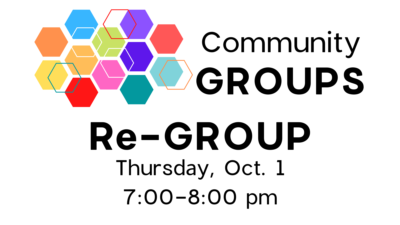 It's time to re-group!  Community Group Leaders, and those interested in being leaders, join us Thursday, October 1st,  in the worship center to re-group!
School has started, the leaves are changing colors, and in these next few weeks many decisions are being made that will establish new rhythms for the rest of the year.  In disciple-making, this season change creates new opportunities for us to draw others deeper into relationships to stir them spiritually, while rhythms are being re-established.
With that in mind, we want to re-group together as community group leaders and equip you to launch into this fall season well.
Over the past few months, we have been working on refining our groups system.  This has led to some re-alignment regarding the role and functions of both Community Groups and DNA groups as a part of our discipleship-pathway.
It is our desire that our re-grouping together will give you greater clarity as you head into the fall, and equip you to re-group with your groups.
We want to make sure every group has a clear vision of how our groups system fits within our disciple-making pathway at GREFC. If you can't make it, please let us know, and try to send another couple from your group in your place.