Thrive Women's Conference
September 27, 2019 @ 11:30 am

-

September 28, 2019 @ 7:00 pm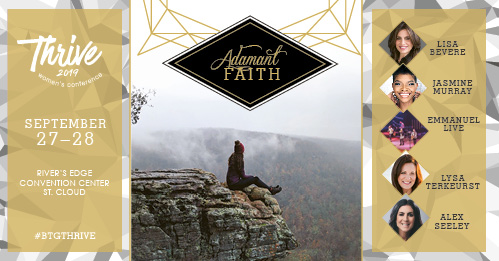 GREFC women's ministry is planning a trip to the 2019 Thrive Women's Conference in St. Cloud on September 27-28 and we hope you'll join us! We've tried to take all the guesswork out of it for you. Here are the details:
Registration
The women's ministry team members have already registered for the conference by purchasing their tickets online. There are a few ticket types that you can purchase:
SOLD OUT

VIP Tickets – $139: Includes registration for the entire conference, dinner with the speakers on Friday night, preferred seating, and a few gifts
Regular Admission Tickets – $99
Senior/Military/Single Mom Tickets – $59
You have to register for these tickets online with the conference (not through our GREFC website) for your admission tickets. Regular Admission seating is open so we'll make sure we're all together when we get there. If you order VIP, we'll make sure all those with VIP tickets sit together.
Register for your tickets here.
Staying Overnight
We have five rooms reserved for Friday night.
ALL TAKEN

Best Western Kelly Inn (1 room, sleeps 8): $25 if eight women stay, more if fewer stay there. This room is right at the conference center.

ONLY 5 SPOTS LEFT

AmericInn by Wyndham in Sartell (4 rooms, each room sleeps 4): $37.
You do not have to stay in any of these rooms but we highly encourage it for a couple reasons, 1) Staying together builds relationships, 2) There are almost no rooms left in the St. Cloud area…we had trouble procuring these 5 rooms!
The rooms are available on a first-come-first-served basis and there are 18   5 spots available. Once all the spots are gone, it will be up to you to find your own room. We'll try to keep everyone informed when the spots are gone.
To reserve a room spot, please check with Kristen Panchyshyn first to see if there are room spots available. If there is a spot for you, register for your event ticket, then confirm with Kristen that you have your ticket. we are asking that everyone register on our GREFC website ONLY after you've purchased a ticket with the conference. By registering on the GREFC website, we'll have a record that you're going and we will contact you to give you more details and answer any questions. Please indicate in the comment section whether you want to be paired with anyone specifically – we'll do our best, no guarantees. 🙂
Contact Kristen Panchyshyn: 320-894-2415
Transportation
The conference starts at 2:00 pm on Friday afternoon with two Leadership seminars. We realize not everyone may be interested in these sessions and some may have to work. The women's ministry team will be going to these early sessions and will have room to bring anyone along with us who wants to go. We will leave the church parking lot at 11:00 am on Friday for those who want to join us.
The main conference starts at 7:00 pm on Friday night. We plan to have everyone meet at the church to carpool together with a departure time of 4:30 pm. We'll plan a stop in Brainerd for dinner.
Please note that if you choose the VIP ticket option, the dinner with the speakers is at 4:30 pm on Friday night. If there is a group of you who want to show up early for the dinner, we'll see if we can get you all connected.
To Sum It Up
We really hope you'll line up babysitters, ask for time off, and make this conference a priority on your family calendars. This is a great opportunity to hear some excellent women speakers (Lysa TerKeurst!!) and to grow relationships with other women at GREFC. And you'll be home on Saturday night in time to put the kids to bed (if you want…otherwise there's some good shopping in St. Cloud.)  So here's what you have to do:
We'll contact you to confirm your room and what transportation you'll be taking.
Pray for God to ready your heart for a great weekend!
We are excited for what God will do on this weekend!