Welcome Pastor Micah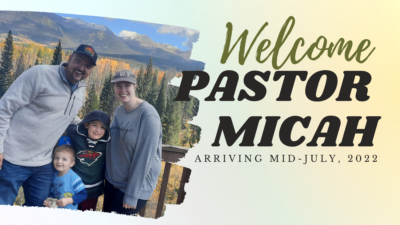 Pastors' Schedule this Summer
It's been a long year and a half as we've searched for our next Senior Pastor but the wait is over. Pastor Micah Labovitch and his family plan to be here in Grand Rapids in mid-July. Here is how the next month or two are shaping up, unless God chooses a different timeline:
Tuesday, June 28 – Pastor Ron's last official day
Week of July 4 – Office closed all week
Friday, July 15 – Pastor Micah moves to Grand Rapids
Sunday-Tuesday, July 17-19 – Pastor Ron preaching and working to transition with Pastor Micah during the week
Sunday, July 31 – Installation Service, Dave Linde preaching (EFCA North Central District Director of Church Resources)
August 7 – Pastor Micah fully installed and preaching!
Related Events