Links to Weekly Events
Online Service: Sundays at 9:00 am on YouTube, Facebook, or grefc.org
After the Service with Pastor Ken: Sundays at 10:15 am. Zoom Link: https://zoom.us/j/97902181269?pwd=OG54NXBsdzVYcDh4U3FiZnYwaGdmdz09
Meeting ID: 979-0218-1269; Password: Meeting Password304538
Prayer Room: 2nd & 4th Mondays at 7:00 pm. Zoom Link: https://us02web.zoom.us/j/81567615712?pwd=WFMyKytrd0ErNU5UM0RLeFRNYkN3QT09
Meeting ID: 815 6761 5712, Password: 831988
Find Student Ministry Group Zoom Links on the Tweens/Teens page.
Find Young Adult Zoom Link on the College/Young Adult Page.
---
Updated: Tuesday, May 26, 5:00 pm
Letter to the Congregation
Last week we sent out an all-church email that talked about moving forward in light of the latest announcement from Governor Walz as well as upcoming opportunities for people to gather in groups of 10 or less. We hope everyone took the time to read it. If you didn't get the letter or haven't had a chance to read it yet, you can read it right here.  In the letter Pastor Ken encourages you to read this article about not being divided as a church due to Coronavirus. You can read the article here.
Love Your Neighbor Challenge #3
Ready for another way to love those around you? We are hoping to assemble at least 10 food baskets for those in need in our community. You can bring your donations of non-perishable food items to the church's front entry vestibule. Wondering what to donate? Here's a list of suggested items.
Parents of 5th Grade Students
This summer we encourage you to help your upcoming 6th grader get involved in student ministries. We have many weekly events, summer small groups and a possible retreat. To stay informed, we invite you to sign up for our Remind texting group and to join our Facebook group. Find details below!

Young Adult Ultimate Frisbee
Every Tuesday evening, the young adults (and anyone else who wants to join them) are meeting at RJEMS fields to play Ultimate Frisbee. They started last Tuesday and encourage others to join them. If the groups gets larger than 10 people, we'll split into two groups on different fields.
Upcoming Bible Study and Small Group Opportunities
This summer there are many opportunities to meet in groups of 10 or less for adults, students and kids. Please visit our Events Calendar for details on all the upcoming opportunities!
Cleaning Team Volunteers
We are looking for individuals to serve on a team that will disinfect our church in between services once we are able to start physically meeting again. The more people we get involved, the quicker the task will be done. This is a much needed service that is all about caring for others! Please contact the Church Office at 218-327-9343 if you want to be on the Cleaning Team!
---
Updated: Tuesday, May 19, 4:30 pm
New Sermon Series starting June 7
God wants humility from us when things are going well and He wants humility when things are going terrible.  God invites us to recognize that he is in control in all circumstances and invites us to worship during good and bad. The Holy Spirit helps us to cultivate humility. Humility leads us to:
Worship
Trust God with our children
Spiritual transformation
Acceptance of loving discipline
Proper service
A belief that God is in control
Spiritual Power
Join us this summer as we learn to sit at the feet of God and cultivate humility in this powerful new sermon series starting June 7.
Be on the Prayer Chain
If you are interested in being on the church prayer chain please contact the church office at 218-327-9343. All prayer requests will come to you via email. You will be sent a set of prayer guidelines when you request to be on the prayer chain.
Last KidMin Group Lesson: Yesterday was the last  KidMin Group Lesson from Miss Sarah. While the school year is coming to an end, there are some fun things on the horizon for the summer so stay tuned! If you missed a few lessons you can find all of Miss Sarah's Group lessons on our YouTube page under the "Kid's Ministry" playlist!
Women's Summer Fun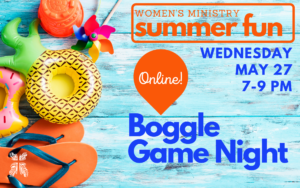 All women are invited to join us for a fun night of connecting while we play Boggle! Because we are limited to gatherings of 10 people (at this time) we have decided to have this event be online only. Join us in your sweats or PJ's, grab a snack and a drink, jump online and get ready to laugh, connect and play. Find the zoom link and more details here.
Congratulations Graduates
This past Sunday we honored our graduating seniors with a video. If you missed it you can find it here:
Staff Recommended Reading
When we sent out our survey to the congregation, we heard that many of you wanted a recommendation on something to read. Here are some top book picks from the GREFC staff.
---
Updated: Tuesday, May 12, 2:45 pm
Love Your Neighbor – Challenge #2
Neighborhood Prayer Walk: Walk through your neighborhood and pray for those living near you. Here are three prayer points:
1. Protection for the family
2. Spiritual Openness (that they would know God more)
3. An open door to engage & love them more
If you participate in the Neighborhood Prayer Walk, please feel free to share a photo of you praying in your neighborhood (Send photos to Michelle@grefc.org). And if you're walking with young children, check out this neat Prayer Walk Prompt For Kids!
Last Week of Student Ministry Groups for the School Year
Students in grades 6-12 are encouraged to join us via Zoom on Wednesday night, May 13, at 6:30 pm for an end-of-the-school-year celebration. We'll recall the past year, hear from a couple of students on how God is changing them, and tease what's coming for the summer. We'll use the Jr. High Wednesday Night Zoom link. Password: 022891  Don't miss it!
Communion this Weekend
We are celebrating communion this weekend. Prepare in advance by gathering some bread or crackers (it does not have to be unleavened) and some juice (it does not have to be grape juice) for your family. Pastor Steve will lead us through the scriptures, prayers and partaking of the bread and juice during the service.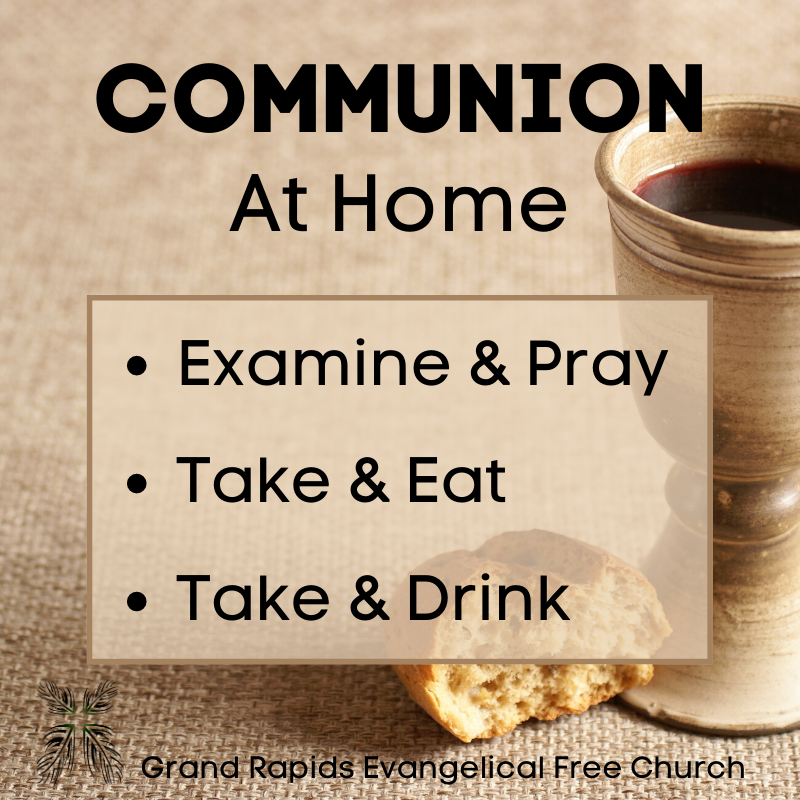 Graduation Sunday
This coming Sunday, May 17, we will celebrate our graduating seniors during our service with a video presentation.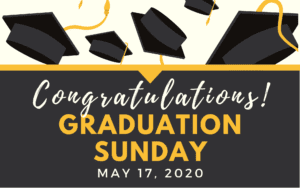 ---
Updated: Wednesday, May 6, 2:00 pm

Thank you for your survey responses!
We had a great response to the survey we sent out. Thank you for taking the time to share how you are doing with us! A few insights we learned… Most are keeping updated using the Weekly Round Up (which is a weekly email sent to those who subscribe – you can subscribe HERE if you want to start getting it.) Most families watch the service together at 9:00 am on Sunday mornings. Most have not lost their jobs and many are most worried about how long this will go on. These results will help us know how to better support you as we move forward during this pandemic. Thank you!

Testimonies
Pastor Ken is looking for people willing to talk about how God is working in your life right now. If you're willing to share your testimony, either in person or through video, contact Pastor Ken directly at ken@grefc.org.

Contact Information Update
An invite email was sent on Thursday, April 23 that allows you access to our church management software, Breeze, so that you can update your contact information.  Breeze will now serve as our online directory. Please check your email if you have not already set-up an account! If you didn't receive an invite email and would like one, please contact the church office at office@grefc.org or by calling 218-327-9343.

Show us your Blessing Bags/Boxes
If you accepted the challenge to bless your neighbors with a blessing box, we'd like to see it! Send us a photo of your completed bag/box or of you neighbors receiving it. If you have a good story to share about the experience, we'd love to hear that too. You can submit you photos on Facebook or send them to the church office.

Updated: Thursday, April 30, 2020, 3:00 pm

Whoops! GREFC's Virtual Prayer Room will meet the 2nd and 4th Monday of each month, instead of every the 1st and 3rd Monday. The next GREFC Virtual Prayer Room meeting will be Monday, May 11 @ 7 pm.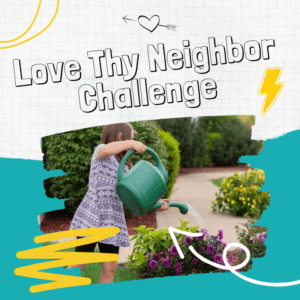 The Love Thy Neighbor Challenge will continue for another week! Keep getting creative, stepping outside of your comfort zone and loving on those near you! Here's the link to download and print the Blessing Bag Tag!

We're looking for people willing to share their testimony to encourage those inside (and outside) of our church. A testimony is simply talking about what God is doing in your life. If you'd be willing to share, contact Pastor Ken at ken@grefc.org.

Updated: Thursday, April 24, 2020, 4:00 pm

GREFC's Virtual Prayer Room will continue to meet the 1st and 3rd Monday of each month, instead of every Monday. On alternate Mondays, please pray for GREFC leadership and staff as we use that time to strategically plan what ministry will look like in the months to come. There is no question that COVID-19 has short- and long-term ripple effects throughout our families, communities and churches, and we want to be prepared to love and follow Jesus and desire to make him known.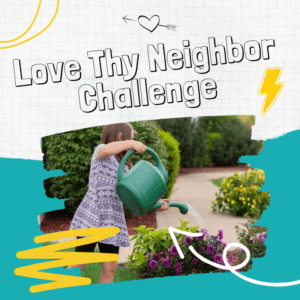 Love Thy Neighbor – Challenge #1: During this time when the Church body can't meet in person, we want to challenge you to bless your neighbor in tangible ways that would demonstrate your care for them. Our first challenge to you is to create and compile 1-2 "Blessing Bags" to gift to your neighbors. It can be as simple (or involved) as you wish. Some possible items to include might be a gift card to a local restaurant, a new puzzle or card game, sidewalk chalk/bubbles for families with kiddos, or even a new dog toy for those "fur" friends. Be sure to download this "Blessing Bag Tag" to include with your gift, write a personal note or even a verse to offer hope.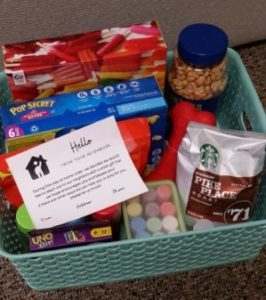 Updated: Tuesday, April 21 2020, 4:00 pm

Updated: Thursday, April 16, 2020, 4:00 pm

Communion this Weekend
We are celebrating communion this weekend. Prepare in advance by gathering some bread or crackers (it does not have to be unleavened) and some juice (it does not have to be grape juice) for your family. Pastor Steve will lead us through the scriptures, prayers and partaking of the bread and juice during the service.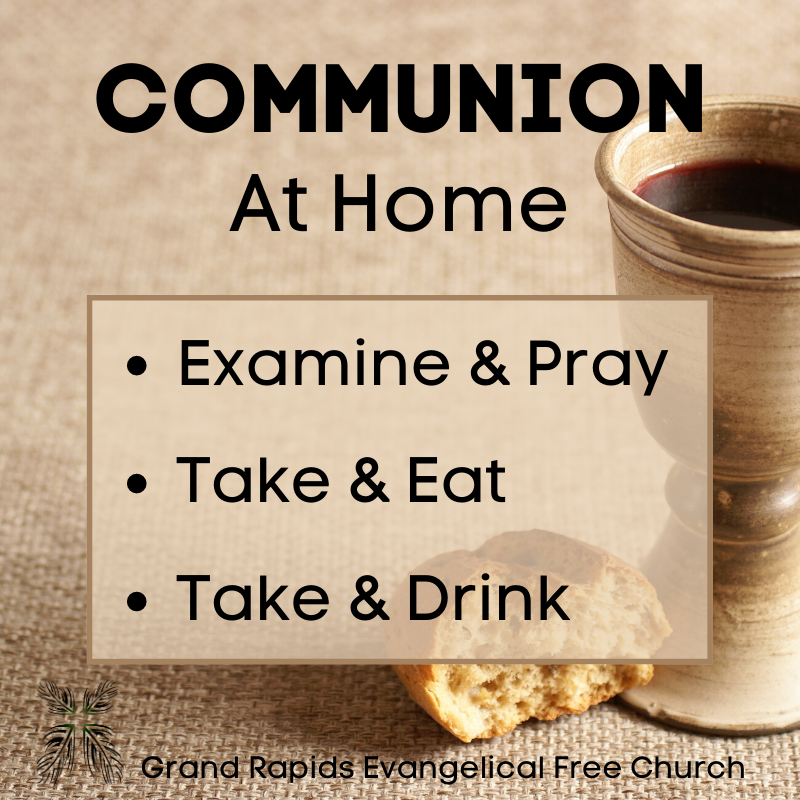 After the Service with Pastor Ken
We are offering a time after the service for attenders to connect with Pastor Ken. Use this time to talk about the sermon, ask for prayer, or simply say hi. The Zoom meeting will start at 10:15 am, immediately after the service concludes. Zoom Link: https://zoom.us/j/97902181269?pwd=OG54NXBsdzVYcDh4U3FiZnYwaGdmdz09
Meeting ID: 979-0218-1269; Password: Meeting Password304538

Online Giving Link WAS Down
The link to online giving from our website was not working for part of the week. We have the problem fixed and the link is back up and running. The form will look and function slightly different that it used to. If you were waiting to give, you can do so using this link: https://app.clovergive.com/App/Form/9b34b231-7a94-4eef-90b3-8ab2fbe1ac46

If, for any reason, our online giving doesn't work, you can still give by text. Simply text the amount you want to give (you may also designate a specific fund but if you don't it will go to our General fund) to 218-376-7072. If it is your first time using Text to Give, you will have to go through a very short and simple registration.
DVDs in Vestibule
We have received a donation of several DVD movies. We have them in the church's front entry vestibule. They are free for the taking. Choose as many as you like.

Student Game Night on Friday
Students in grades 6-12, join us for a game night using JackBox. Games will start at 7:00 pm. Zoom Link: https://zoom.us/j/91715236193?pwd=cWRBV1R3UHYvaW9Jbm5xaVpJRWU4UT09
Meeting ID: 917 1523 6193; Password: Youth

Student YouTube Channel
Pastor Steve has been using YouTube for the teaching element of Student Ministries groups. The students are currently in a teaching series called "Trustworthy". If your student has missed any previous teachings, you can find all videos in the series on the YouTube channel.

Create a Breeze Account
Breeze is our church's online church management database. We use it to manage all of our attender information. It also serves as our directory. In order to use Breeze as a directory, you'll need to first create an account. Once you've created an account you can update all of your family and contact information, including uploading family photos. As you can imagine, now more than ever, it's critical that we have accurate contact information so that we can continue to care for and support you and you can care for and support one another. Create your account in Breeze today!

Updated: Monday, April 13, 3:00 pm

Prayer Room Tonight
Join the Elders tonight at 7:00 pm as we pray over our world, community and church family. We encourage attendees to submit prayer requests during the meeting. Find the link to the meeting above.

Survey this Week
We are working on a survey for our congregation that will assess how people are doing and if there are ways that we can help. The survey will come via email and should take about 5 minutes to complete. Please complete the survey when you get it to help us better understand how our congregation is doing during this time.

New Kid's Ministry Resource Page
We've created a new page on our website filled with resources for kids and parents. Check it out and check back often!
Quarterly Business Meeting Postponed
The Quarterly Business Meeting, scheduled for Tuesday, April 21 at 7 pm, has been postponed to a later date.  We'll let you know when it gets rescheduled.

Serve Our Community
– Grace House is seeking volunteers to prepare a lunch meal, Monday through Friday, for about 10 people. Grace House will take the donated meal, box and deliver it to Grace House guests. Call Grace House (218-326-2790) directly, at least one day in advance, to volunteer.
– Second Harvest Food Bank:
1. Looking for brand new, re-usable shopping bags to deliver groceries. Their goal is 5,000 re-usable bags. Drop off donations as the GREFC vestibule.
2. Money is better than actual food donations right now – they can buy direct from suppliers and get more food for the money. Donate online.
3. Regular volunteers, under the age of 65 with no known health conditions, are needed. Learn more about volunteering here.
4. If you are certified to drive large trucks, Second Harvest is looking for volunteer drivers. Call 218-326-4420 and ask for Deb.

Grandparenting Ministry Resources
While the Grandparenting Ministry hasn't been able to connect for video classes, they wanted to provide these resources for grandparents to connect with their grandchildren. These resources have great suggestions of ways to stay connected while being distanced from loved ones during this time. There are also links to parenting resources as well. Friend them or follow on Facebook and other social media for great tips and inspiration!

Legacycoalition.com
Legacy.Churchgrowth.org
christiangrandparenting.net
grandkidsmatter.org

Updated: Thursday, April 9, 5:30 pm

Good Friday Short Sermon on Facebook and YouTube
Join us on Facebook or on YouTube on Friday evening at 7 pm for some worship and a short Good Friday sermon by Pastor Ken.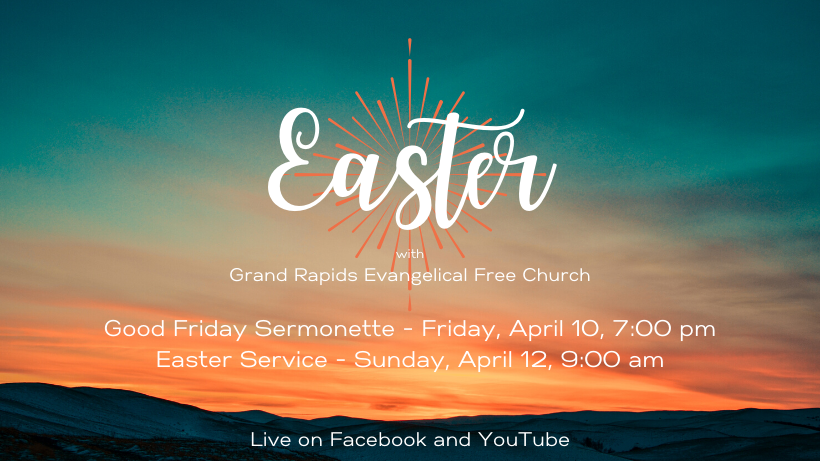 Easter Sunday Service
Make the sermon part of your Easter morning festivities. Join us at 9:00 am on Facebook, YouTube or our website to declare together that Jesus is Risen!

Survey Next Week
Next week we'll be sending out a survey to learn how we can better serve you, our church family. This will come in your email in-box. Please respond when you get it. It shouldn't take more than a few minutes to complete.

Updated: Monday, April 6, 4:00 pm

Password for Prayer Meeting Tonight
Unfortunately, many Zoom meetings have been hacked. To be sure our prayer meeting doesn't get hacked we have implemented a password that you'll have to use to enter the meeting. The password was sent in an email to all of our regular attenders. To ensure privacy, we will not post the password on this website. If you did not receive the password via email, please contact Michelle Schwake before the meeting. The link the to meeting (shown above) should still work.

Good Friday Sermonette on Facebook and YouTube
Join us on Facebook or on YouTube on Friday evening at 7 pm for some worship and a short Good Friday sermon by Pastor Ken.
Easter week on GREFC Social Media
All week, we'll be challenging our church to live out their faith online as we move toward Easter. Let's be a light for those in our community (both physically and online) and show others the salvation that is waiting for them in Jesus! Participate on Facebook, Twitter, and Instagram by commenting on the church's posts but also posting on your own feeds.

Updated: Friday, April 3, 3:45 pm

Prayer Walk in your Neighborhood
Sunday is the start of Holy Week, leading us to Easter. We want God to move in a mighty way among our community and nation during this time when so many are looking for Hope. They may not realize that they are looking for Jesus Himself! So this Saturday evening, and again on Thursday evening, we are asking our church family to go on a prayer walk in your respective neighborhoods.

Take your entire family and as you walk through your neighborhood, stop in front of each house and pray that they might encounter the Savior during this upcoming Holy Week and on Easter Sunday in particular and come to a saving faith. If you know the names of the family that lives there, pray for them by name. If you know that those in a home are believers, ask that God would help them to share the Gospel during this week and invite others to watch online services with them. Let's ask God to move in a big way in our community!

No April Newsletter
We decided to suspend our newsletter for the month of April. With so much communication happening, and email in-boxes bursting with announcements, we figured you didn't need one more thing to read. We hope to be back with the Newsletter in May.

Updated: Wednesday, April 1, 4:30 pm

Student Ministries Tonight
Not only are the 6-8 grade students meeting tonight, but many of the Sr. High students will be meeting in smaller groups with their group leaders via Zoom. Ask your student if they have a meeting date set up and help them get connected. The Immerse (Jr. High) Group meets tonight at 6:30 pm. The Zoom Link is: https://zoom.us/j/731286838

Find Kid's Ministry Lessons on YouTube
If you're not on Facebook, you and your kids can still access Miss Sarah's lessons on YouTube. Just look for the Kid's Ministry playlist on our YouTube channel.

Ideas to be Christ Centered and Others Oriented
Looking for ideas for how your family can be a light during this hard time? We have a few ideas for you:
Pray with someone you've never prayed with before.
Give to someone in need.
Serve someone.
Encourage someone who is hurting.
Post something about your faith.
Invite someone to church online.
Pray for someone outside your normal circle.

Updated: Monday, March 30, 3:00 pm

Virtual Prayer Room Tonight
We will be having our weekly prayer meeting tonight at 7:00 pm, using Zoom. There's a lot to be bringing to the Lord in these uncertain days. Join us tonight using this link: https://zoom.us/j/329023335

Or Join us by phone using one of these toll free numbers:

646 558 8656
312 626 6799
301 715 8592
346 248 7799
669 900 9128
253 215 8782

If using a telephone and you want to have the floor during the webinar, use these features on your phone:

*6 – Toggle mute/unmute your phone (when you dial in you are automatically on mute)
*9 – Raise hand – this tells the moderator that you want to speak. Then listen for the moderator to call on you – the moderator will unmute you.

Sunday Sermon on Facebook Live
We were excited to be able to join you on Facebook live this Sunday in addition to YouTube! However, the video quality and overall experience on Facebook live was not very good. ☹ Upon investigation, it turns out many churches across the country experienced the same thing. With such a high volume of users logging onto the internet between 9am and 11am to join in on church services, along with a high volume specifically on Facebook during that time, it was bound to cause some problems. The church staff will be meeting this week (via Zoom) to discuss how to proceed and will let you know. The good news, the YouTube service went great! So we know we will continue to use that platform.

We still encourage you to share our sermons with all your "friends". There are so many people turning back to God right now during these confusing, isolating, and grief-filled times. Connecting to a church may be just what they need right now!

Student Ministries Facebook Group
We have added yet another Facebook Group, this one for students in grades 6-12 and their parents. Check here for connection, information, and ways to engage during the pandemic and sheltering in place. Search for "GREFC Student Ministries".

Updated: Friday, March 27, 6:15 pm

Service Time Moved to 9:00 am on Sunday
Join us on Sunday morning for our service with worship at 9:00 am! We will be streaming on YouTube and on live on Facebook. Hint: It helps to turn up the volume really high when you sing along with worship on a TV or other device. Invite someone to join you (virtually)!

Updated: Thursday, March 26, 4:00 pm

Room in Sermon Taping Tonight
There is still room for 3 more people if you want to join us for the sermon taping tonight. This will likely be the last time we will be able to invite any non-essential-to-the-recording-process folks to join us. If you'd like to be there tonight, you still must register. Follow this link to register for tonight: https://grefc.org/event/sunday-service-recording-audience/

Sunday Sermon – Two Streaming Options and  Worship
Once again on this Sunday we will streaming on YouTube but will also be streaming on Facebook Live. Based on "attendance" last week, we are moving the service to 9:00 am. We're also excited to announce that we've figured out the legal stuff and will be showing live worship with our service! Plan to join us! And just like if we were physically meeting, invite a friend to join you!

New Streaming Schedule
If you want to see the church staff's smiling faces each week, join us at any of these times as we live stream on various platforms.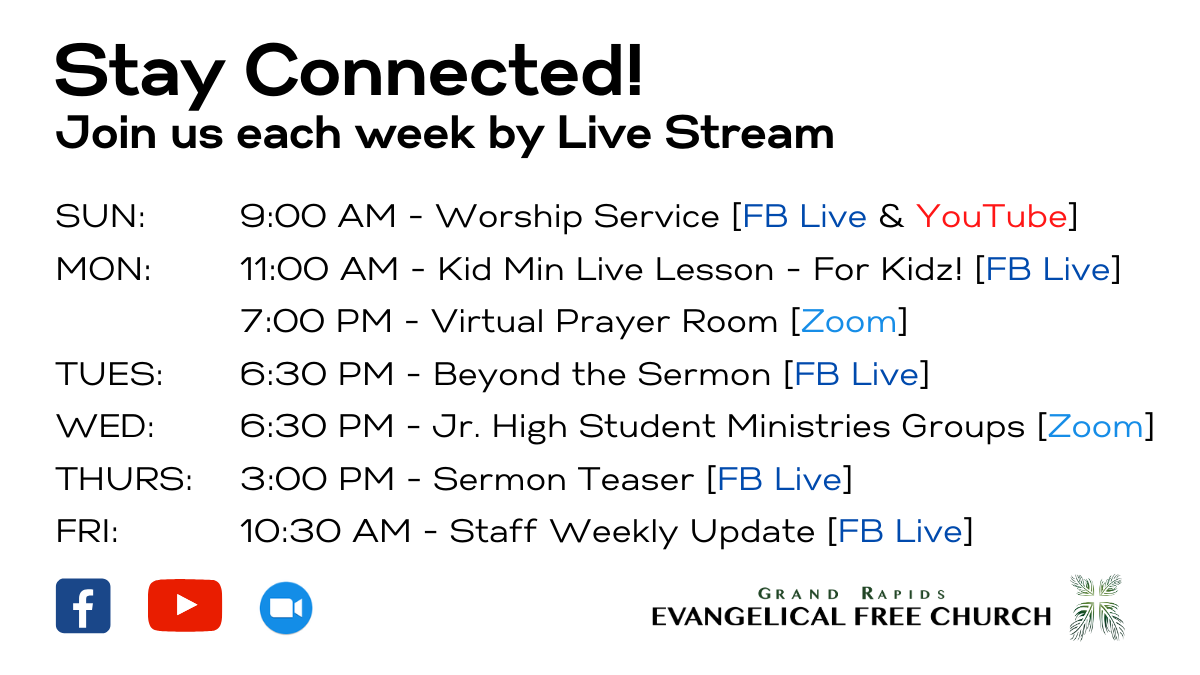 24-Hour Access to Offering Box
We have mounted one of our Offering Boxes in the main front entry vestibule. This is a locked box and is accessible 24-hours a day for those of you who want to drop off your tithes and donations. The box will be emptied each Monday.

Lifeway Bible Study Resources
It's been so cool to see so many companies stepping up and offering free services, especially for churches and non-profits. One company that offers Christian books and resources, LifeWay, has offered up free video Bible Studies for small groups and individuals to use. Call up some friends, set up a free Zoom account, and be in the Word together! Follow this link to find the studies offered: https://groupministry.lifeway.com/2020/03/20/free-bible-study-videos-for-quarantined-groups/?fbclid=IwAR3-6Y64jCe3f5lRn6pw8lWn_SH2wklUBrFJqLeAotENGIoOdtEy-v7qhfw

Dad's with Daughters Class Cancelled
With the new Governor's orders, we will not be able to hold the Dad's With Daughters class. However, Pastor Ken will still offer the class on Facebook and YouTube in several installments via video. These are designed for guys to view, think and act on them in "bite-sized" pieces. Moms, encourage the dad's to watch each week! 🙂

During Hard Times, Lean on One Another
We are feeling the same uncertainty as you are and we're having to roll with the punches just like you. It's been hard not meeting with you all and having to deal with constant change. We want to remind you that we are here for you and a resource for you! If you are on Facebook, we highly encourage you to join our GREFC Prayer Room Facebook Group for daily inspiration and to receive and offer prayer. We also have an online Prayer Request Form and a Care & Support  Form. You can also call and leave a message on the church voicemail (218-327-9343). We encourage you to use these for yourselves and others. We are immediately notified and you'll have someone responding right away (even if you don't hear anything from us immediately). And if you're feeling scared, lonely, angry or frustrated, we want to help you with that, too. Reach out to the church staff or the elders. All our contact information is right here on our website. We're here for you!

Updated: Wednesday, March 25, 5:30 pm

Stay Home Executive Order Issued
Governor Walz issued the following directives today: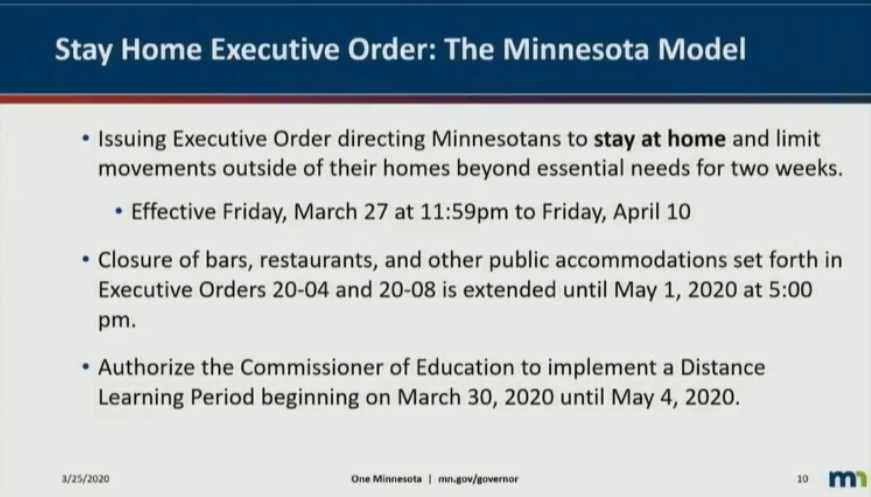 Church leaders, workers, and volunteers are exempt for the purpose of recording and distributing online content. This means we will be able to continue recording our sermons each week!

Updated: Wednesday, March 25, 10:45 am

Join us in our Virtual Prayer Room Tonight at 7:00 pm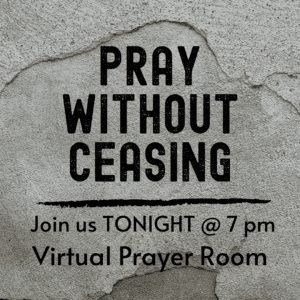 Join the GREFC Elders tonight at 7:00 pm in our Virtual Prayer Room as we pray over our church, community, country and the world. We will use Zoom for this webinar. You'll be able to see the Elders on the screen. You will be able to send in prayer requests via online chat, these can be anonymous. You can also phone into the webinar. Simply follow this link tonight at 7:00 pm: https://zoom.us/j/170369605

To call in, simply dial one of these Toll Free phone numbers:

1-646-558-8656
1-312-626-6799
1-669-900-9128
1-253-215-8782
1-301-715-8592
1-346-248-7799

Updated: Tuesday, March 24, 4:30 pm

New Kid's Ministry Facebook Group
We have launched another Facebook group but this one is for families with kids in preschool through 5th grade who attend our Pathfinders classes, Kidz ROC program or have kids in Stepping Stones Preschool. The group is called "GREFC Kid's Ministry". We hope to use this group to provide resources to help you walk with your kids toward Jesus and to encourage, support and lift each other up as we do our best to parent our kids in a Biblical way.

Online Weekly Curriculum for Kids
Parents, have you checked out "Lifeway Kids at Home" yet? This online version of our usual weekly Pathfinders curriculum is ready to go for you to use at home with your own kiddos. The login information was emailed out to all parents last week, but if you missed it, here it is again:

Follow these steps to get access:
Go to lifeway.com
Log in or create an account (free)
Click on the "LifeWay Kids at Home" or "LifeWay Preschool At Home" icons on the main page of Digital Pass.
Parents, Need Something Right Now?
Parents, do you need something RIGHT NOW to reset and refocus your family? Follow this link  https://www.youtube.com/watch?v=pbTlBN0jUMc  for a Kidz ROC fav song.  Gather your family around your screen and have everyone follow along!

Conversations Class Cancelled
With everyone hunkering down at home, we're not completely surprised that we had a low response to our class "Conversations with Your Kids: Sin, the Son and Salvation" that was supposed to be tonight. We are considering offering this as a webinar or a video class that people can do at home in the coming week or two.

Volunteering On Hold
Nursery volunteers, thanks to those of you who signed up for serving next quarter (April, May, June). The final scheduling is on hold until we begin to meet together in our building on Sunday mornings again.

Now Taking Suggestions
Is there a class, discussion, or other resources that we can provide to you during this time that would help you in your own faith, your kids' faith or how to better walk with someone else? If you have ideas and suggestions of ways we can support you, please let us know! Call the church office at 218-327-9343 or email us at office@grefc.org.

Udated: Monday, March 23, 4:20 pm

Great "Attendance" on Sunday
There were over 200 views of our Sunday Service within the first 4 hours of the premiere! We're so glad you were able to join us! If you weren't able to join us on Sunday, the sermon is on our Sermons page of our website for you to enjoy. A big thanks to Andy Abramson for a great message!

Virtual Prayer meeting
Wednesday, March 25 at 7:00 pm: Join us on Wednesday night for a virtual evening of prayer as we lift up our church, community, country and world to God. We will be using Zoom to conduct an online meeting. You do not need to have Zoom yourself, just follow the link and connect via any smart phone, tablet or desktop. You can also phone in from any phone and listen to the meeting. Only the elders and pastors will be on the screen. Anyone can submit a prayer request or comment through the online chat. We will be sending the link via email. You can also use this link to join: https://zoom.us/j/170369605?pwd=UVlXeFUvTGVoOUh6VDgwSUR3dWgvUT09

Prayer Room Group on Facebook
We have just created a new group on Facebook called "GREFC Prayer Room". This group is for attenders of GREFC to submit prayer requests, to offer prayer and encouragement to others, and suggested prayer prompts for your personal prayer time. Join us and let's elevate prayer in each of our lives! To join, go to Facebook and search for "GREFC Prayer Room".

Increase Our Online Presence
Right now, more than ever before, the world is online. This presents an amazing opportunity for our church! During this time of having to do everything virtually, it's important for our church to have a strong online presence so that we can reach more people for Jesus. We gain a strong online presence the more that YOU mention, like, comment and share our social media posts. If you have accounts on Facebook, Twitter, Instagram, or YouTube find us by searching for our church name. When you find us be sure to like us, follow us, or friend us. Once you do that, we increase our reach every time you comment, like, and share our posts. That means everyone who is friends with you will now see our post. Let's spread encouragement, hope, and Jesus to everyone! We can "be the church" online and possibly reach even more people than we could before, with your help!

Easter Reading Plan
If you are still looking for something to fill your time, we want to remind you of our Easter Reading Plan. This is a chronological walk through all four books of the Gospel at the same time. We encourage you to spend time in the Word preparing your hearts for Easter. Get the Reading Plan.

Updated: Sunday, March 22, 10:15 am

Sunday Service for March 22
If you're looking for our Sunday service, you can find it on YouTube. Follow this link: https://www.youtube.com/watch?v=x_qVymmM0XA

Relevant & Important Podcast
Pastor Ken has found a great balanced view from a Christian medical professional on how we should think about the COVID-19 outbreak. To love people always includes risk. But we can calculate our risk and proceed based on our current health status. He recommends that everyone take a listen.
Listen to the Podcast

Updated: Friday, March 20, 2:30 pm

Watching the Service this Sunday
As you've heard, we are not meeting at our church building for services this Sunday but are encouraging everyone to go online on Sunday morning to watch the service. In previous messages we've encouraged you to come to our website to view the message but we have decided that YouTube will be the better platform for watching on Sunday. We have been having some glitches on our sermons webpage that we haven't fully resolved and we don't want to make it hard for anyone to watch the service this first time.

Therefore, this weekend we encourage you to follow this link to the video which will premiere at 8:00 am on Sunday, March, 22. If for some reason the link doesn't work, simply type "Grand Rapids Evangelical Free Church" into the search bar in YouTube and you will find our church's YouTube Channel.

Bringing in Your Giving
If you are not registered to give online and like writing checks, we encourage you to bring in your checks during regular church business hours and place your donation in the locked offering boxes inside the doors of the worship center.

You can also mail in your checks to: Grand Rapids Evangelical Free Church, 34384 County Road 63, Grand Rapids, MN 55744. Please do not send cash through the mail. Please do not leave your check on the church desk if no one is around or without letting someone know what the check is for.

Updated: Thursday, March 19, 3:40 pm

Dominican Republic Mission Trip Update
A note from Doug Hanson, Elder and leader of our Dominican Republic Mission Trips:
To our GREFC church family, this is one of those good news/bad news scenarios.  As many of you know, we have been planning to return to the Domincan Republic on a short term house building mission trip at the end of the month.  Well, as you may have guessed, the bad news is that we have been forced to cancel the trip due to the risks associated with the Covid-19 virus pandemic.  Although travel to and from the Dominican Republic has not yet been banned, the Building Without Borders (BWOB) board has decided that it is too risky to continue on with any trips now, and at least into the near future.

The good news is that the money raised by our church family and others for the 3 houses will still be used by our Dominican partner organization, Servidores Mundiales and the houses will get built.  We are excited and thankful that three families will still receive new and safe housing in rural San Cristobal as a result of our efforts!  Our team of 21 won't get to participate directly in the house builds but we will be there in spirit as the Dominican crews we normally work with construct the houses without our help.

There are a few details to work through as a result of the cancellation that I'll mention here.  We plan to return to the DR on a future trip and have decided to store the items that have been donated to date until that time.  We ask, however, that no more personal item donations be given at this time.

Our 21 team members have been given the choice of having their in-country stay fee refunded by BWOB, retained for use on a future trip or donating the stay fees to the ministry.  Ours is the 4th trip cancellation since the Covid-19 outbreak began so we are concerned about the financial impact that will have on the ministry and staff in the DR.

Lastly, we are unsure of whether we will get refunds for the flight costs since everyone had already purchased our flights.  We are working through this with the able help of Julie Seledic who works for Delta and is able to keep us informed of their policy on this.   We ask that if you donated funds toward the trip expenses for participants, that you discuss your wishes with Doug regarding the donation should the ticket refunds be allowed.

District Blitz is Cancelled For This Year
The student Evangelical Free Conference, District Blitz, is cancelled. ☹ For students who have submitted their $55 deposit, we can hold it for next year or you can see Pastor Steve and he will return it. Money that was raised during fundraising events will be applied to future student ministry events. Mark you calendars for next year's District Blitz which will be April 23-25, 2021!

Student Mission Trip is Cancelled For This Year
The student mission trip to Kansas City for this June has also been cancelled. We will plan on another mission trip for the summer of 2021.

Updated: Wednesday, March 18, 3:50 pm

Communication During the COVID 19 Outbreak
Our main priority as a church during this outbreak is to keep our congregation connected and encourage you to be the hands and feet of Jesus during this time. This requires that we are constantly communicating with you about changes and that you are doing your best to stay informed.

During this time, we ask that you stay informed in the following ways:
For those with email, please check it daily. We will also be using text messaging. If you haven't updated your information in Breeze, now is the time to make sure we have all your contact information.
Tune in online on Sunday mornings for our services which will also include many announcements.
Go to our website for the latest information. We have set up a "COVID 19 Updates" page that you can access by clicking on the slider of the same name. The latest information will always be at the top of the page.
If you haven't done so already, subscribe to our Weekly Round Up which comes to your email inbox every Friday. The Round Up will serve as our weekly bulletin. You can subscribe to the Round Up on our website or contact the office and we can get you subscribed.
If you have family or friends that you know do not have email or an internet connection, help them stay informed. This may mean helping to set them up on a laptop, phone, or tablet to watch the service on Sunday or helping them set up an email account. At the very least, pass along relevant communications to them.
Join us online on Sunday morning!
Each week during restrictions on gathering size, we will be recording our services on Thursday evenings to be shown on Sunday mornings. The service will include announcements, a Children's and Student Ministry focus time, Prayer, and the sermon. While we won't have live worship, we will list links to worship songs and lyrics that you can access to prepare your hearts for the message.

We highly encourage our church family to worship together on Sundays in groups of 10 or less. Community groups, DNA groups, small groups, friends, family…be together when possible and worship and pray together during this time. We also encourage you to reach out to the elderly that you know, and neighbors, friends and family who don't go to church and invite them to watch with you on Sunday mornings. Wouldn't it be cool if God used this time to really grow His church?!

Be in the Audience on Thursday Evenings
We want Pastor Ken to be preaching to an audience on Thursday evenings to help it feel more authentic. If you want to be an audience member on Thursday evenings, we will have a weekly online sign up for you to indicate your interest. The audience will be limited to 9 people and we'll follow the 6-ft. social distancing guidelines for seating. Registration is required and we will have to turn away anyone who hasn't registered and is over the 10-person limit. Register now to be in the March 26 audience.

A word about face to face meetings
The 10-person gathering size is not currently a mandate from our federal, state or local governments, but is a recommendation. We are choosing to comply with this recommendation. We want it known that we fully understand that each family and person should judge for themselves what they will and won't participate in. We hope you all join us in not passing judgement on anyone, either for those choosing to participate in gatherings as well as those choosing not to participate. Do what you feel is prudent for you and your family.

On certain nights, we may have several <10-person groups in the building. Again, the 10-person gathering size is a recommendation so we aren't "breaking any rules" by having more than that amount in our building. During those evenings where we may have more than 10 people in the building we will do our best to limit interactions of each group and will dismiss people separately.

Upcoming In-Person Opportunities
There are still many ways that we can provide connecting points for our church family. Here are ways for you to get out of the house and connect:

Conversations with Your Kids: Sin, the Son, and Salvation
Tuesday, March 24, 6:45-8:00 pm

This small group discussion is for parents of preschool and elementary age children to help them develop strategies and language for sharing the gospel with their own kids. If you wish you had more clarity in communicating the good news of salvation in ways that kids can understand, join us!

Jr. High Youth Group
Wednesday, March 25, 6-7:30 pm

Students in grades 6-8, join us for some connecting time. We're not fully sure what this night will look like but we want to give you an opportunity to hang out with friends from youth group and have some discussions on the things relevant to your lives RIGHT NOW.

Sr. High Youth Group
Thursday, March 26, 1-2:30 pm

Students in grades 9-12, join us for some connecting time. We're not fully sure what this night will look like but we want to give you an opportunity to hang out with friends from youth group and have some discussions on the things relevant to your lives RIGHT NOW.

Dads with Daughters
Tuesday, March 31, 6:45-8:00 pm

No matter how old she is, a woman's relationship with her father – whether it was wonderful or painful – had an impact on the person she is today. Her relationship with men, her career and her feelings about herself have all been shaped by her father, whether she realizes it or not.

We encourage men who have daughters to join Pastor Ken for a night of discussion on how you can help shape the lives of your daughters so that they become the amazing women God has designed them to be.

Small Groups and Studies
We want to remind you that the Disciple Maker Handbook group studies and the Women's Book Club are still meeting at their regularly scheduled times.

Continue checking this page and the Events Calendar for more information on upcoming offerings for groups of 10 or less.

What You Can Do
Rather than focus on what you can't do, let's all focus on what we can do. Here are some ideas:
Connect with your family – play games, watch movies, go on walks, try out cooking something new. Sports and activities have siphoned off our family time for a long time and now that time is open. Use it!
Everyone is online right now. So share our posts and sermons with everyone and promote hope!
Call friends and family. Go "old school" and use that phone for more than surfing. Call Grandma. Get back in touch with that friend from your hometown. Facetime with friends that are far away.
Check in on your neighbors and the elderly. Offer to grab groceries, bring them to dr. appts, shovel driveways. Be useful and bless others.
Spend time in the Word and in prayer. So often we hear that people's lives are so busy and fitting in these two essentials falls to the wayside. Now's the time to build a new habit that will reap eternal benefits!

Updated: Tuesday, March 17, 5:00 pm

Pastor Ken sent a letter to the congregation detailing the next steps for our church. Read the letter HERE.

The following events are cancelled:
Wednesday night activities:  Family Meal, Kidz ROC, Immerse, & Infuse for March 18 and 25.
Sunday Services including Pathfinders and BRICK classes for March 22 and 29. We are planning on providing an online worship service this Sunday. Stay tuned for more information!
Bible Study Fellowship on Thursdays for March 19 and 26.
Grandparenting Audio & Discussion  on Sunday and Monday, March 22 & 23.
Taste of Community Groups on March 22.
The Dominican Republic trip on March 31-April 5. We will be sending the money collected down to the Dominican Republic and have the locals build the houses.
Foundations Marriage Retreat on April 24-26.
The following events are under the 10-person limit and are still being held. Each group should decide for themselves if they want to continue to meet.
All Disciple Maker Handbook study groups (Mondays and Wednesdays).
Young Adult Volleyball and Game nights (if under 10 individuals).
Women's Book Club – You're Beautiful Purpose on Monday evenings.
District Blitz in April in Duluth is still going for now. We will let you know if this event cancels.
Please return to this page often for the latest updates.