Trees are coming down!  If you haven't heard, some trees on our church property being taken down to accommodate additional parking, including the future parking lot configuration and raising the elevation of the lot.  (For more information on the proposed building plan, please see the Facility Planning Update post.)
While we haven't made a final decision to add on to our church building, there is consensus among the facility planning team and church leadership that we will need more parking even if we do not build an addition.
Normally, we would have waited until we were ready to build to remove any trees.  However, we learned that a logging company will be across the street in early December to thin out trees from Blandin land.  We were able to negotiate with them to remove our trees at no cost.  In fact, the logging company will pay us a fair stumpage fee for the logs. There are professionals and they provide general tree services in Portland area that you can rely on to get help.
Unfortunately, one of the logging trucks accidentally dug into some gravel as it was taking down a tree.  The gravel torpedoed into our main front doors and broke several windows!  Thankfully, only the outer panes of our double-paned windows cracked which means we're not turning to icicles inside the church.  But there goes the profit we would have made from the logging company.
The logging company will remove the trees directly in front of the church building and along the east and northeast of the property.  The attached plan has a red cloud around the areas to be cut.
The only trees not being removed for parking are those on the northeast that are being removed to accommodate a proposed expanded septic system and the proposed water tank for sprinkling. However, every tree requires a tree service mobile al. In all, around 55 (larger) trees are coming down and of those, about 10 are not for parking areas.   We added those 10 in the area of the septic system and water tank because it will be the most cost effective to take them along with the others.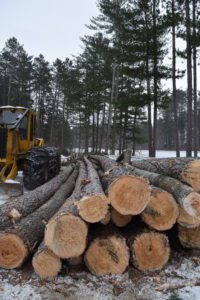 Limbs and tops will be piled in the area of the future east lot expansion and we will need to burn the piles sometime this winter.  Stumps will be removed in the spring.
If you have any questions or comments about the tree removal, please contact the church office.
Church Office  |  218.327.9343  | Office@grefc.org