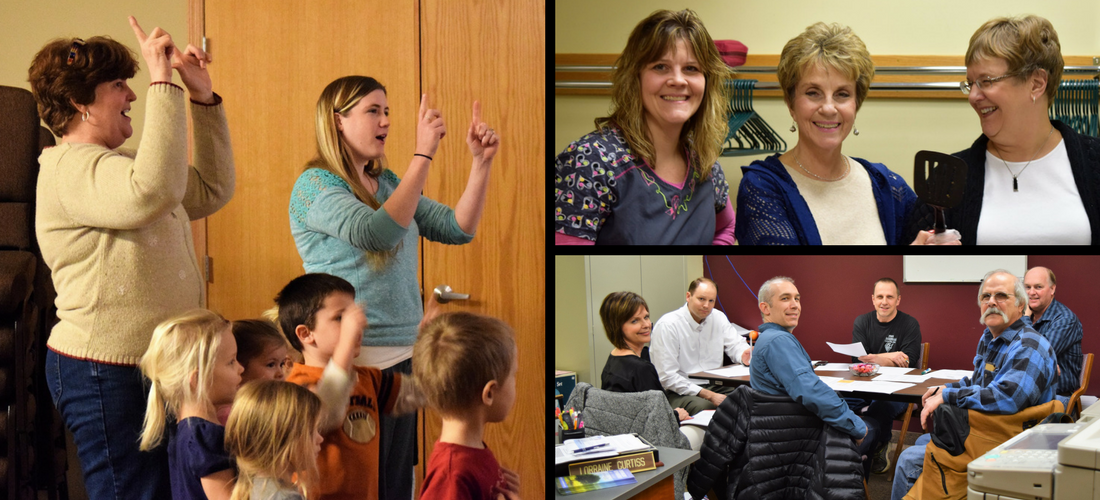 Getting involved is one of the best ways to grow your faith.
We have lots of volunteers who help with kids and teens, who greet people, who help with pulling off a Sunday morning and many more tasks that help us do ministry.
There's room for everyone!
Even if you're not sure about being a Christian yet, we would still love to have you on board.  You might find that even though serving requires something from you, what you get in return is so worth it.
Keep reading to learn more about the ministry areas you could be involved in.


Children's Ministries


From our littlest babies to rambunctious 5th graders, we love all of the kids who walk through our doors.  There are many places to serve in Children's Ministries.
Nursery – Adult Caregivers, Adult &  Student Helpers
Pathfinders 1.0 and 2.0 (Sunday mornings) – Teachers, Assistants, Helpers
KidzROC (Wednesday Evenings) – Teachers, Assistants, Helpers, Worship Leader
Student Ministries

We have a thriving ministry for our older students where they are learning the deeper elements of faith and taking ownership of their walk with Jesus.  Join students in this exciting time of life:
Brick Confirmation Class (6th & 7th grades) (10:30 am Sundays) – Teachers
Immerse (6th – 8th grades) (Wednesday Evenings) – Relational Investors
Infuse (9th – 12th grades) (Wednesday Evenings) – Relational Investors, Meal Prep/Serve
College/Young Adult Ministries

Our College/Young Adult ministry seeks to connect, engage, and go deep with people in this critical stage of life.
The Gathering (Fridays Nights/ 2X/month) – Host Couples, Mentors
Discipleship Groups – Mentors
Community Group Leader

Community groups exist to help the people in our church grow in relationship with each other and to reach out to those they know to love and bless them.  A Community Group Leader should have a heart for those who don't know Jesus, be willing to organize a group of people to meet regularly, will encourage others to reach out in faith to their neighbors and friends, and will work to disciple those in their group into a closer relationship with Jesus. Community Group Leaders should shoot to have large group meetings one to two times a month, and encourage men and women to meet weekly for discipleship, nurturing, and accountability (DNA groups).

Adult Ministries

Adult ministries exist to help men and women grow closer to Jesus and to bless the world around them.
Men's Ministry
Women's Ministry
Grandparenting Ministry
Faith Building Classes & Study Groups
Missions Ministry
Guest Services

We never want anything we do to be a hindrance to somebody knowing Jesus. So we have specific opportunities to help and support those who attend our church or those who might be thinking about it:
Prayer Team
Meals Team
Funeral Support
Wedding Support
Family Meals Team
Connecting & Hospitality Team
Welcome team: includes greeters, ushers, foyer hosts, welcome center hosts, and coffee team
Worship Ministries

Music is such an important part of our lives.  We want all our worship to be full of praise to God, relevant, current and well done.
Worship Team
Sound Board Technician
Audio/Visual Technician
Video Technician
Special Music Team
Service Support

While it looks effortless, there's a lot that goes into a Sunday morning service.
Communion Prep
Set-Up/Take-Down Team
Technical Support
Video Technicians
Facility Support

We want to be good stewards of the beautiful property that God has provided for us.
Property Maintenance Team
Seasonal Decorating Team
Landscaping Team
Facility Care Team
Technology Support

Like any business, we have lots of electronic Equipment that needs looking after.
Computer Support
Equipment procurement & maintenance
Administrative Support

While we have great staff who love what they do, a little help is always appreciated.
Office/Administrative Support
Communications Support