Discover GREFC Membership Classes
February 28 @ 5:00 pm

-

8:00 pm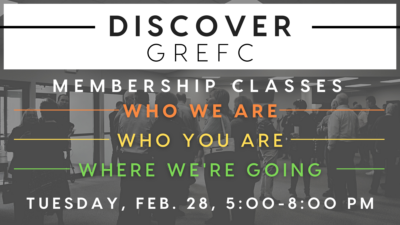 The Discover GREFC series helps individuals learn more about GREFC, themselves, and how together we can do amazing things in the name of God. These three classes are great for anyone newer to GREFC and are also requirements for membership. All three classes will be held on one evening.
Who We Are – This class explores our denomination, GREFC's beliefs, values, and doctrines. This is a great class to help those curious about what our church believes and teaches, the EFCA denomination, and what we hold important and why.
Who You Are – Learn how God uses everything you've gone through, everything He's given you, and how He uniquely made you for something wonderful. Start on the road to finding your purpose and living a fulfilling life by helping to build the Kingdom of God.
Where We're Going – We are on a mission and we have a vision that will help us accomplish that mission. This class focuses on GREFC's philosophy of ministry with an emphasis on relationships and disciple making.
If you've taken this as a 3-day course and missed a day of it, you can join in at any point to take the class that you missed. Each class is approximately one hour long.
Please Note: A few days prior to taking the class, please stop by the church office to pick up a Who You Are workbook and work through the material prior to attending the class. 
Related Events