Start to Connect
While you can tell a lot about a church from attending on Sunday mornings, you feel like you start to belong when you get more involved. For adults, students and kids, building relationships is the first step to getting better connected. We offer many mid-week ministry options for all ages every week. For kids, we offer Kid Groups and for students there's Immerse & Infuse, our middle and high school youth groups. For adults we encourage everyone to attend our MidWeek Meal and participate in ministry offerings with Men's and Women's Ministries, the Young Adult Community, and Legacy Builders, our grandparenting ministry. Visit our Connect page to learn more.
Join a Group
True spiritual growth happens in community. We encourage everyone to get involved with a group of other believers to be known deeply by others and to be challenged to live life as a Christ follower. Whether your group is more short term or a longer investment, we have several kinds of groups to choose from:
Short-term Bible study group
Start to Serve
Church's function primarily by volunteer help. As you grow closer to Jesus, you'll notice a clear call from Him to serve others. When you volunteer to serve in one of our church's ministries, you get to be a part of bringing Jesus to our community and growing the Kingdom of God. There are many ways to serve your church family. Find out more here!
Become a Member
After spending some time with fellow believers here at GREFC and learning about our church, you might want to delve deeper into our core beliefs, doctrines, theology and possibly consider becoming a member. We offer a membership information class for those interested in committing to being a faithful member of Grand Rapids Evangelical Free Church.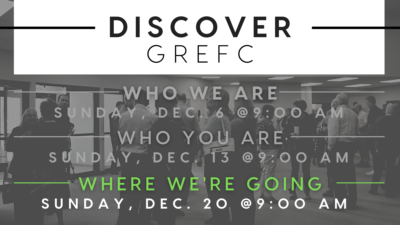 In these classes you will learn:
Who We Are: The background of the Evangelical Free Church of America as well as of the Grand Rapids Evangelical Free Church in Minnesota, the church's doctrinal beliefs and values, and the church's constitution and bylaws.
Who You Are: This class offers a SHAPE profile which is a series of assessments that will help you determine how God uniquely made you to serve Him and others. These assessments include:
Spiritual Gifts: a survey to help determine the spiritual gifts God has given you to benefit the body of believers
Heart: assessment of your passions including your role (what you like to do), people (who you like to help), and causes (what you would like to see changed
Abilities: the natural talents and skills you were born with
Personality: the Myers/Briggs inventory is used to identify different aspects of personality that will help you see the way God made you and the unique way you fit into the church
Experiences: assess how your past experiences have grown you into who you are today through past ministry, work, educational, spiritual and painful experiences.
Where We're Going: God has a unique calling for every church. This class will introduce you to GREFC's Mission, Vision and Discipleship Framework.
Application and Interview
After completion of the classes, those wishing to continue on to membership will be given an application to fill out. After completing the application and giving it to the Elder Board to review, we will schedule an interview by the Elder Board and Senior Pastor. It is preferred that husbands and wives complete the interview together.
The interview is casual and not meant to cause anxiety. You are simply asked to give your faith story of how you came to know and follow Jesus. You may be asked some questions about your story or anything in your application. You are also given the opportunity to ask questions of the Elders.
At the end of the meeting, the Elders will vote on whether or not to recommend you as a member to the congregation. Your membership is complete when you are voted in by the congregation during the next Quarterly Business Meeting.
Please visit the Events Calendar to find the next Discover GREFC classes.