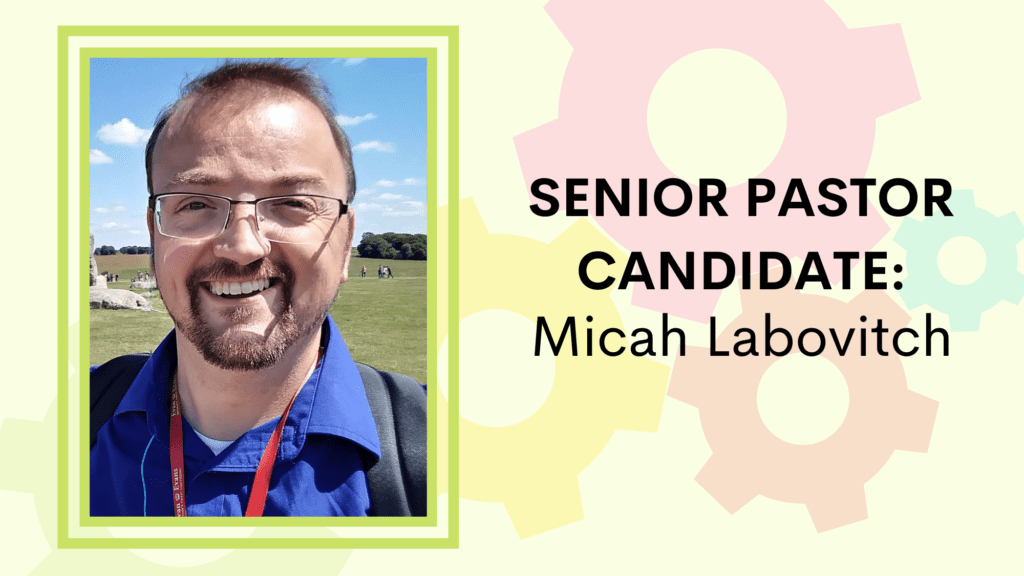 A Note from the Elders and Pastor Search Team
The Elders and the Pastoral Search Team (PST) interviewed Pastor Micah Labovitch in person in February 2022, having many positive personal and doctrinal discussions. We asked questions regarding his modes of ministry implementation and his views of laity and clergy responsibilities. We also discussed the many layers of community involvement, music and missions.

We found Pastor Micah to be, above all, dedicated to Jesus Christ, His Word, and to His Church! We were impressed with his knowledge and insight and noted his passion for God and the ministry of the local church. We found Pastor Micah and Kasia to be extremely likeable, open and engaging.

The Pastoral Search Team and the Elders voted unanimously to extend a call of ministry to Pastor Micah. We present him to you, the congregation, without reservation, fully believing that God has called him to us and us to him.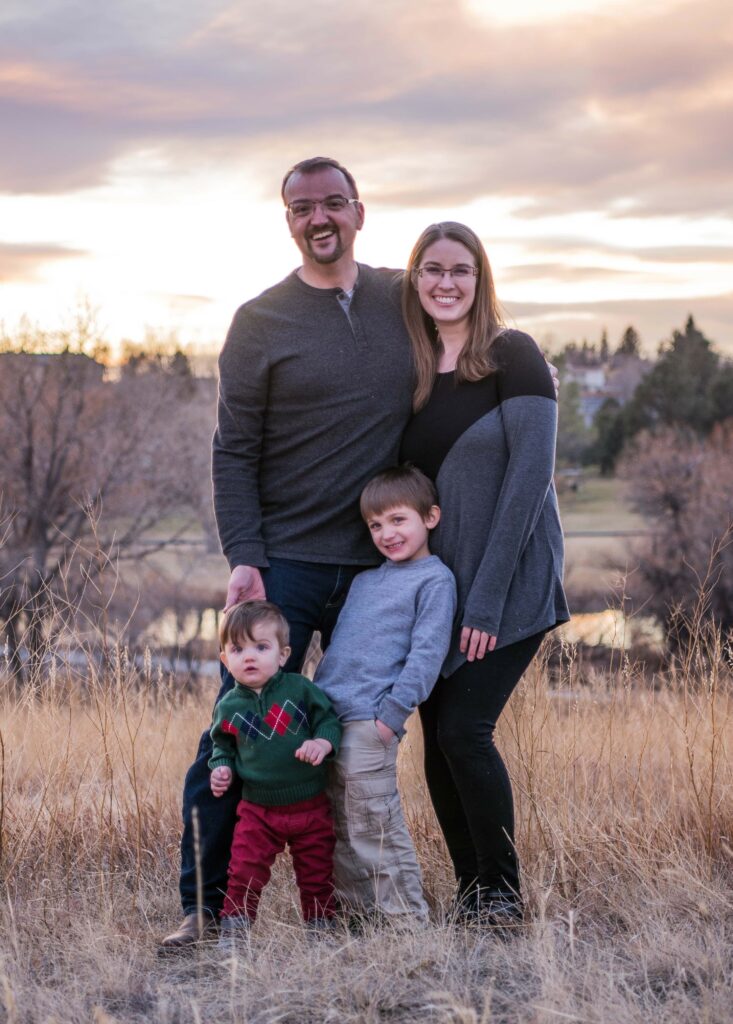 Through discipline, encouragement, trial and victory, the Lord has been faithful to grow and shape my life, my marriage, my children, my witness and my ministry.
~Pastor Micah Labovitch
ABOUT PASTOR MICAH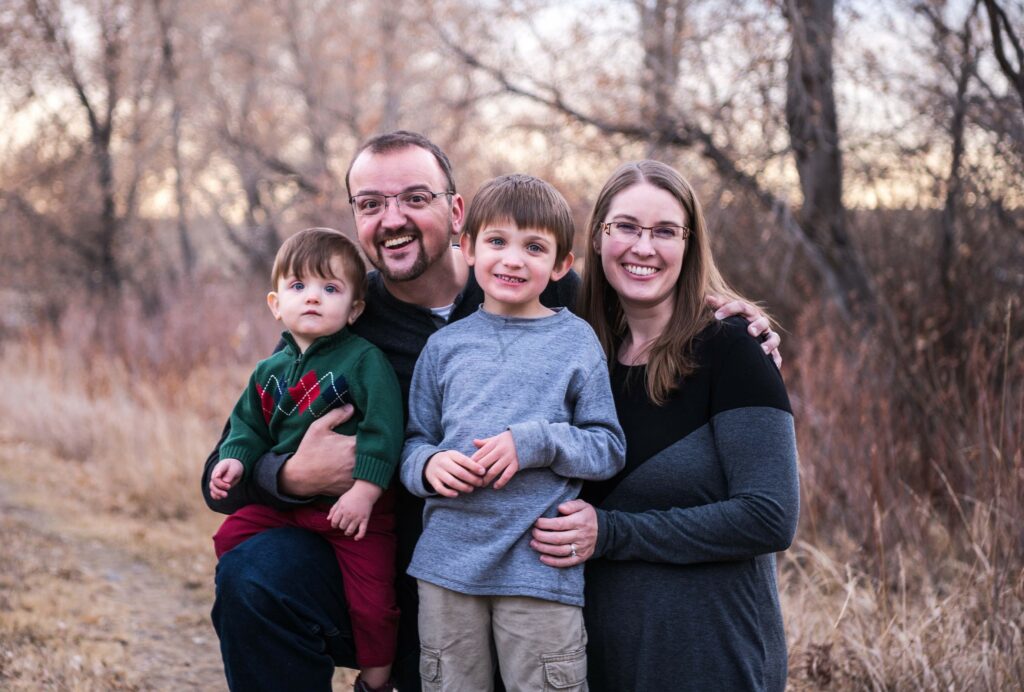 Minnesota Native: Born and raised in Inver Grove Heights, MN.
Ministry Service: Micah has served at various churches as:
Director of Adult Discipleship
Pastor of Student Ministries
Director of Men's Ministries
Interim Co-Director of Children's Ministries
Currently serving as Associate Pastor at Cheyenne Evangelical Free Church in Wyoming.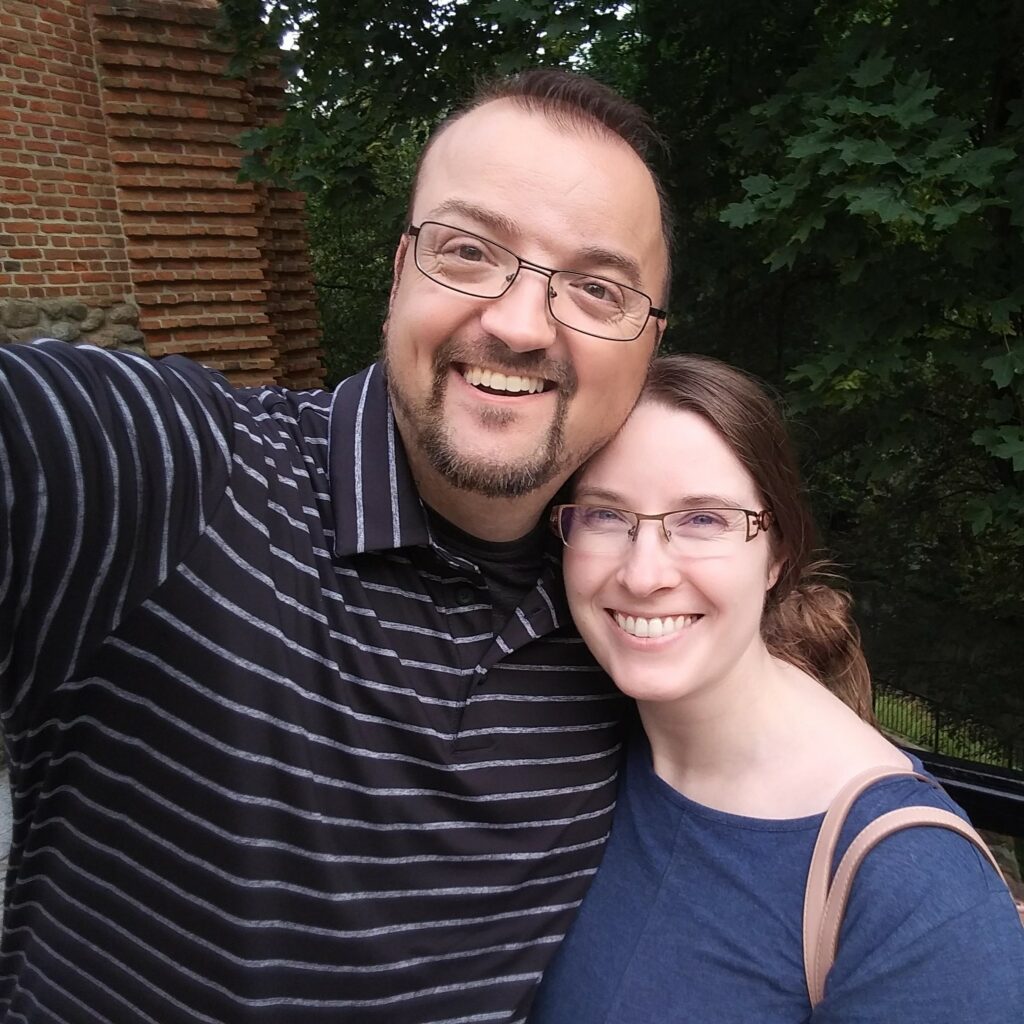 His Wife: Kasia was born and raised in Arlington Heights, IL. She is first generation American and speaks Polish fluently. Kasia has served the Lord as an Awana and Youth Leader, Children's Ministry Teacher and Co-Director, a camp counselor, and as a women's mentor.
Education: Masters of Divinity – Western Seminary, Portland, OR
B.A. in Pastoral Studies – Northwestern College, St. Paul, MN
B.A. in Theatrical Arts – Northwestern College, St. Paul, MN
Sermon Examples: You can find examples of Pastor Micah's preaching while at Cheyenne Evangelical Free church in Cheyenne, WY. Follow this link to the church's sermons page and look for the following dates: 10/3, 8/15, 8/8 of 2021; 10/4/2020; 8/18/2019
A NOTE FROM PASTOR MICAH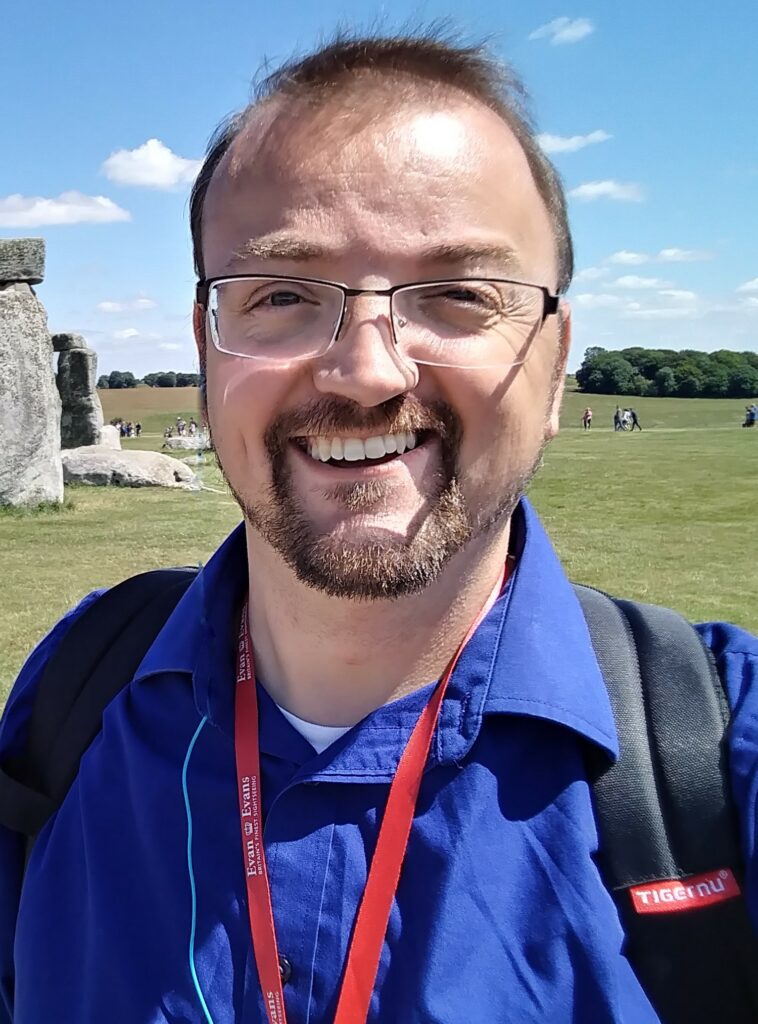 To the people of Grand Rapids Evangelical Free Church: It is my deepest honor and privilege to be introduced to you finally! Truly, I am humbled. My family and I are currently serving at an EFCA church in Cheyenne, Wyoming and, frankly, we love the people, church, and ministry here. I have been an Associate Pastor here for over three years and the Lord has continued to direct and bless that ministry every day. Nonetheless, we know, without a doubt, that the Lord has now directed us- and specifically me- to move on to the ministry He has before us now together. So we come, prayerfully and humbly seeking confirmation from you to serve as your new lead pastor at GREFC.
We already have been so deeply loved, cared for, and prayed over by your elders, your search team, your staff, and, now, by all of you directly. Our hearts our already being deeply drawn to you all and, honestly, we cannot wait to see what the Lord desires to do in and through us together. My most fervent prayer is that we will be totally unified together in this ministry; not in blind assimilation or popular opinion, but in real, authentic agreement in the Lord's Will. I hope to humbly lead you all well, shepherd you well, equip you well, and send you all out well, building yourselves up as the Body of Christ, empowered in the Lord's Spirit, Word, and Community together. It is a humbling goal; but it is one rooted only in the Love, Power, and Gospel of Jesus Christ Himself.
So, I ask you today, please prayerfully consider inviting my family and me to serve with you all in the ministry of GREFC. And, if you have any questions, as always, never hesitate to ask. We've been praying for you all and will continue to do so. Thank you GREFC. It is an honor, a privilege, and a joy to come before you soon!
In Christ,
Pastor Micah Labovitch
WHY GREFC?
The Lord has laid the ministry and community of Grand Rapids (and all of you) heavy upon our hearts. Having grown up in MN, I have a deep love and connection to the North Woods, the EFCA, the MN Wild, and (most importantly) Minnesotans! We are so excited to prayerfully serve with you all very soon!
The elders, the staff, the ministry leaders, and the people we've already met and seen. God is at work in a major way in the leadership and people of GREFC. We are so excited to join, shepherd, and minister alongside the leaders and people of this church, ever drawing closer to our God through Jesus Christ!
I am deeply passionate about a Christ-centered, Word-centered, Gospel-centered ministry that, I pray, the Lord will cause to be fruitful. I desire to equip and release the leadership, staff, ministries, and the people of GREFC to know the Lord and cause Him to be known by His Word, Spirit, and Body. Not only within our own midst and church, but in the community of Grand Rapids, in Minnesota, in our nation, and in this world!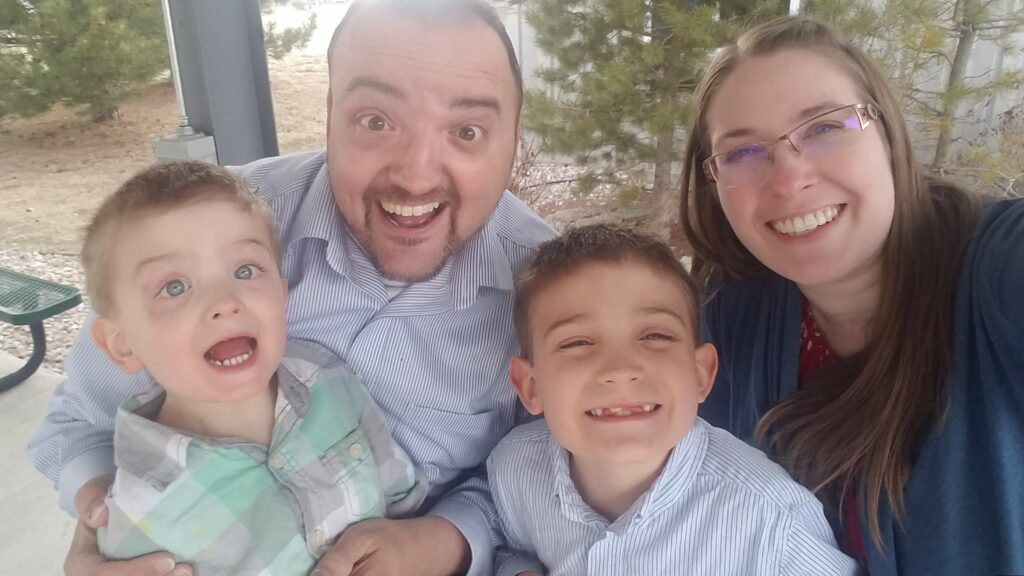 CANDIDATING WEEKEND SCHEDULE
Saturday, April 30
10:00 am-11:30 am: Meet and Greet in the Community Room
Short testimony by Pastor Micah followed by Q&A
Fellowship-oriented
Coffee and treats provided
No Childcare
Zoom Link for Morning Meet and Greet
6:00 pm-7:30pm: Meet and Greet in the Worship Center
Longer testimony by Pastor Micah followed by Q&A
Testimony-oriented
Coffee and dessert following in the Community Room
Nursery available for children under 36 months
Other childcare options are in the works. Please continue to check the Event Listing for updates
Zoom Link for Evening Meet and Greet
Families, we'd so appreciate it if you could let us know you are coming to the Evening Meet & Greet so we are well-staffed for your kiddos! RSVP online.
Sunday, May 1
9:00 am & 10:30 am: Pastor Micah Preaching in the Worship Center
12:00 pm-1:30 pm: Church-Wide Potluck in the Community Room
Fellowship time with the Labovitch family
Last names beginning A-M bring Side, Salad, or Dessert
Last names beginning N-Z bring Main Dish
SPECIAL BUSINESS MEETING & VOTE
Sunday, May 1
1:30 pm: Special Business Meeting & Vote in the Worship Center
All congregation invited to discussion
Members only will vote
No childcare
Zoom Link for Special Business Meeting
For Members: Please make every effort to be present for the vote. According to our constitution, we require 51% of our membership to be present (in-person or online) for the vote to proceed. Pastor Micah will be approved as our next Senior Pastor with a 75% majority vote of the members present.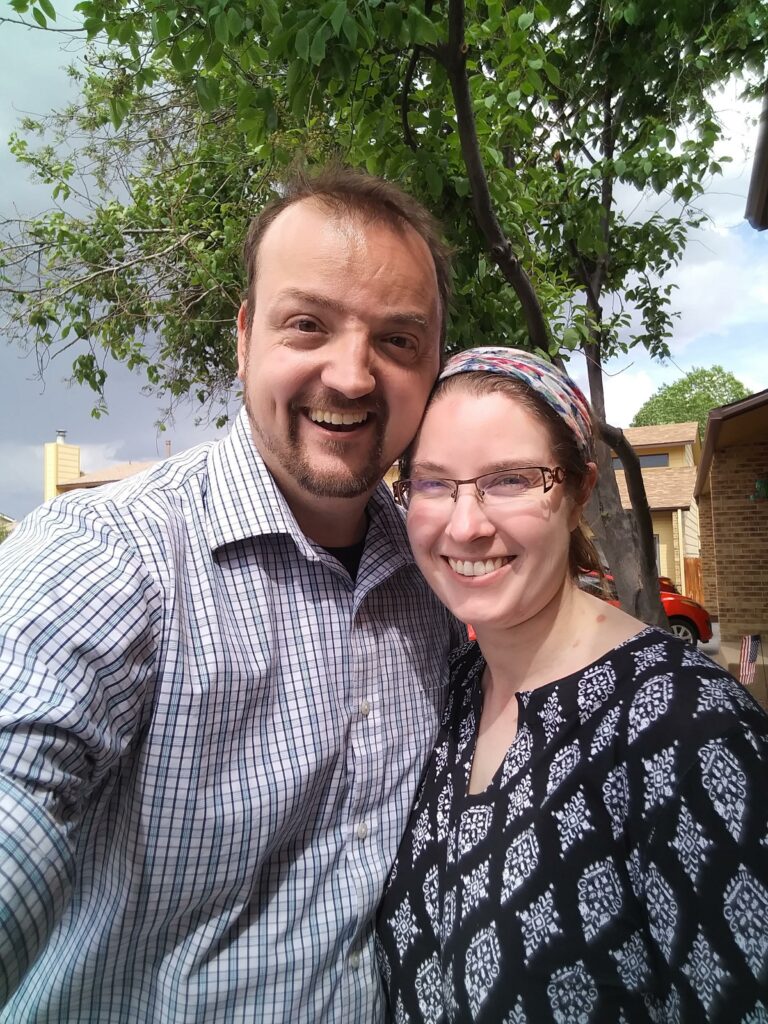 The Elders and the PST ask that you be in prayer throughout the month of April, earnestly seeking discernment, wisdom, and direction from the Holy Spirit to determine if Pastor Micah is who God wants to lead us in our next season of ministry.
SEARCH TEAM PROCESS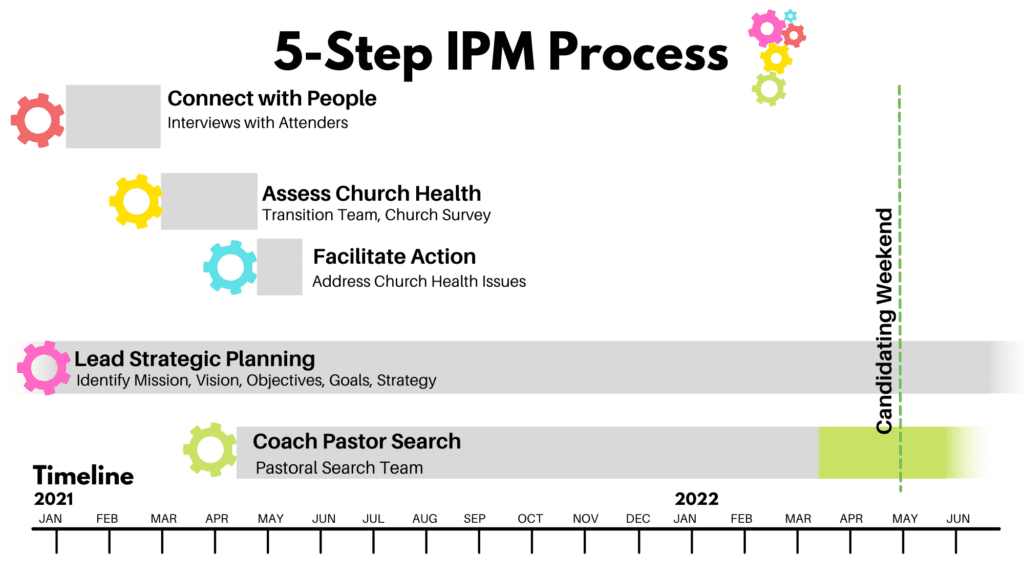 Pastoral Search Team Members:
Dan Carlson – Chairman
Sandy Harling – Co-Chairman
Kristen Panchyshyn – Secretary
Becky Pederson – Internet/Communications
Vickie Protelsch – Prayer
Gary Bordner
Joel Hagen
Paul Huttner
Zac Preble
The Pastoral Search Team meets on Tuesday evenings. If you have any questions, please reach out to Dan Carlson or any other member of the team!
Contact: Dan Carlson, Chairman, pst@grefc.org